The Crookes - Hold Fast CD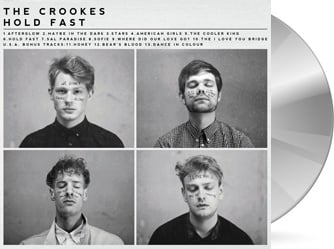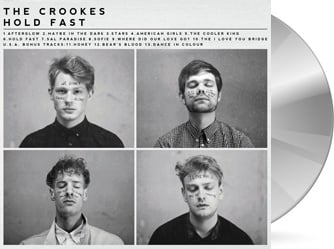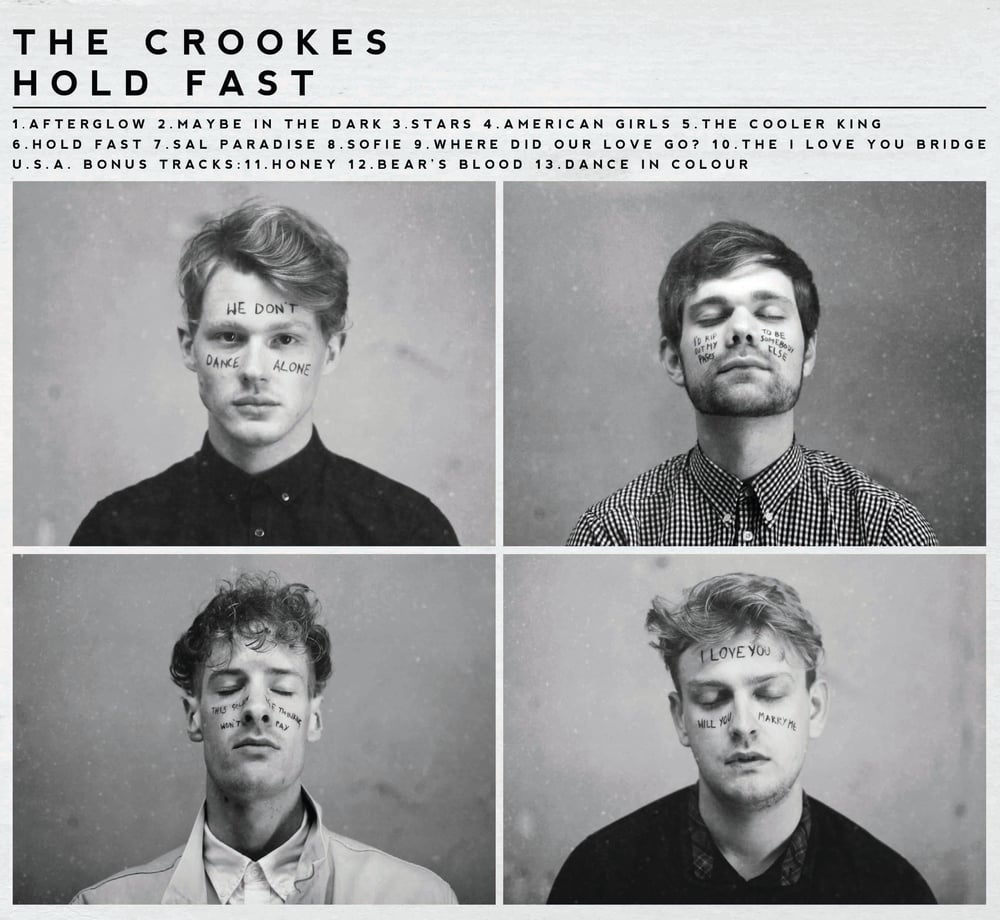 The Crookes' Hold Fast CD.
Influenced by the optimism of The Beatles walking down the airliner steps at New York airport in '64 and the melancholy of The Smiths waiting by the cemetery gates in Manchester in '84,The Crookes tap into 50 years of British pop for their sounds, and 100 years of British social history for the word
The Crookes are at the forefront of the latest wave of music to surface in the UK. They are four English Literature graduates whose music is bound with storytelling and tinged with nostalgia. Described by NYLON magazine as the 'potential leaders of England's smart, taut NEW POP movement' they personify English charm and eloquent, intelligent songwriting.
In 2010 Exposed Magazine readers voted and awarded The Crookes coveted 'Best Unsigned Band' award. Following the success of their debut album Chasing After Ghosts (2011) the band have built up a strong Cult following known as the "Bright Young Things" which further consolidates the strong aesthetic of the band. The band were chosen by Burberry to perform for their Burberry Acoustic range, as well as The Art of the Trench range. They were also taken out to Tokyo to represent the brand for Vogue's Fashion Night Out.
Following a slight line-up change in 2011 the band have now consolidated their more mature sound resulting in the release of their critically acclaimed second LP "HOLD FAST."
The Crookes have already garnered heaps of praise amongst the media and industry. They have been tipped by Steve Lamacq as one of the 3 best guitar bands in the UK right now poised to re-invigorate guitar pop as a tour de force in UK music and were voted to number 24 in the BBC Radio 6Music Song Of The Year poll for their track Backstreet Lovers.
They have performed multiple live sessions on Radio's 1,2,4,5 and 6 in the UK as well as being play listed on stations throughout Europe, Asia and South America and being chosen by MTV Canada to represent emerging music from the UK.
"They are kings of romance (an important part of the New Pop brewing around the UK)... There is something almost subversive about their odd mix of influences (The Smiths/'60s girl groups/'50s rock and roll)... It's the romance of the Seine, of walking in the Peaks; or lying on your back reading and daydreaming." - Steve Lamacq BBC Radio 6Music
"...a band this good are unlikely to remain obscure" - NME
"Lovingly, lavishly layered...the four piece take a big step forward. Not a second of these 33 watertight minutes are wasted." Hold Fast album review - Q Magazine
"The simple, nearly silent moment was awe-inspiring and a welcome break from the nonstop noise of most shows. " - SXSW review, Impact News-Austin.
Hold Fast
01. Afterglow
02. Maybe In The Dark
03. Stars
04. American Girls
05. The Cooler King
06. Hold Fast
07. Sal Paradise
08. Sofie
09. Where Did Our Love Go?
10. The I Love You Bridge
USA BONUS TRACKS:
11. Honey
12. Bear's Blood
13. Dance In Colour
The Crookes
MODOUT014